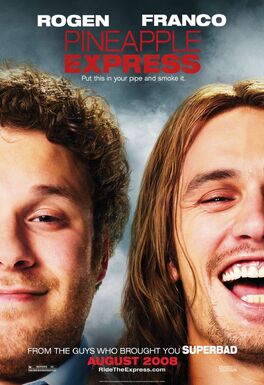 Pineapple Express
is a 2008 American stoner action comedy film , directed by David Gordon Green and stars Seth Rogen, James Franco, Danny McBride, and Gary Cole. The film was released on June 6, 2008.
Dale Denton is a 23 year old process server who witnesses a dangerous drug lord, Ted Jones and corrupt cop, Officer Carol commit a murder. Dale panics and leaves his roach on the ground, as Dale recongizes it as Ted sends two hencemen to the dealer, Red. Meanwhile, Dale flees to his drug dealer, Saul Sliver's apartment and tells him what happened as Dale realizes he left the roach and Ted could trace them. As the two flee into nearby woods and then finds out overnight they've run out of gas as the two go on the run for their lives.
Ad blocker interference detected!
Wikia is a free-to-use site that makes money from advertising. We have a modified experience for viewers using ad blockers

Wikia is not accessible if you've made further modifications. Remove the custom ad blocker rule(s) and the page will load as expected.